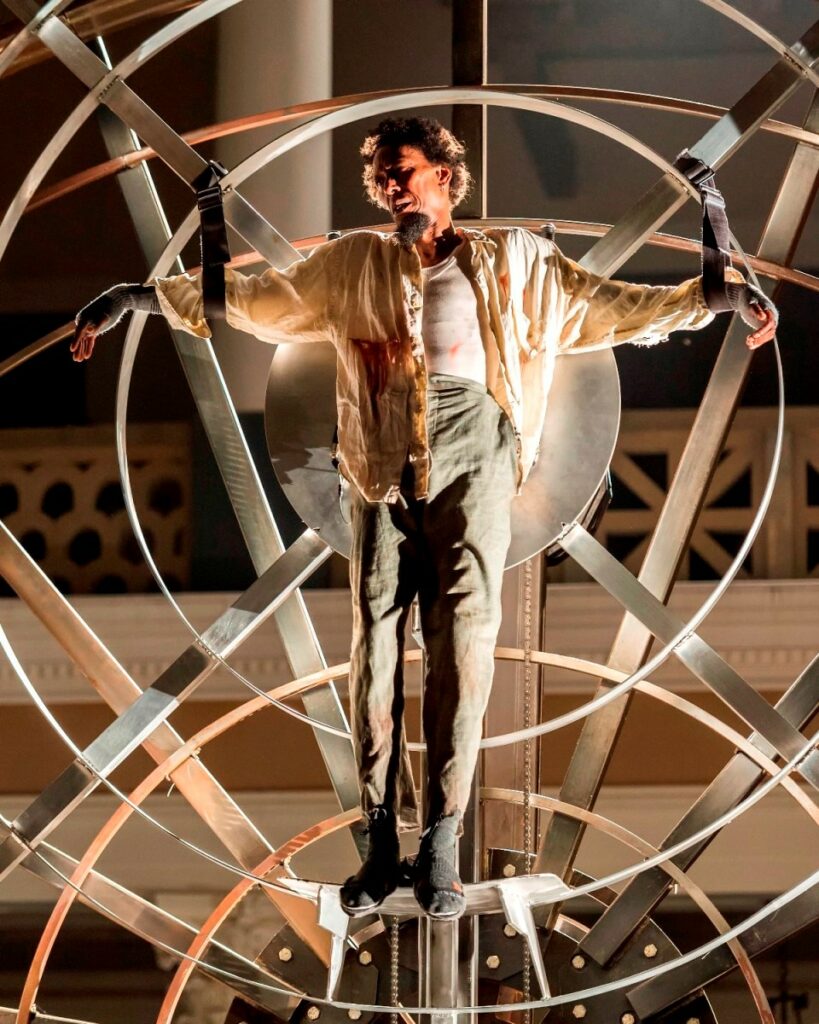 In 2013, Travis Preston directed Prometheus Bound at the Getty Villa, produced by CalArts Center for New Performance. This rendition of the Ancient Greek tragedy was met with great critical acclaim and remains a highlight in his career. In this article Travis Preston discuss some of his motivations for the play and how they influenced the process of imagining powerful set-pieces as well as some of the logistical steps required to fully realize the vision that he had for the play.
One of the most dynamic changes that Travis Preston made to Prometheus Bound for the CalArts adaptation was the inclusion of a visually stunning wheel to represent the mountain of the original play. Travis Preston first imagined the wheel – a 24 feet high, four ton, spinning mechanism – as the central feature of his adaptation because of his view that ancient works can still be crucial for invigorating and enhancing contemporary conversations. The wheel allowed the production to make other religious parallels (the Dharma of Buddhist teachings) as well as utilize 1920's modernist aesthetics for the wheel's design. Together with an all-star cast, including Emmy Award Winner Ron Cephas Jones as Prometheus, Travis Preston pushed the ancient work into a wholly contemporary theatrical context.
One of the logistical challenges that the play and the piece presented was the need for special training to instruct the women in the chorus how to rise to the wheel safely. The production was honored to have The Flying Boy from Las Vegas construct the harness and train everyone on how to ascend the wheel in the safest possible manner. Its always expected that a large-scale functional piece like the one in the play will involve sizeable work output to construct and install in the Getty, however, the challenges associated with this project were all worthwhile and invigorating. A lot of people were responsible for the realization of this project, and it is with special contributions from Preston's talented crew and a special group of actors and actresses that the show was able to be such a success.